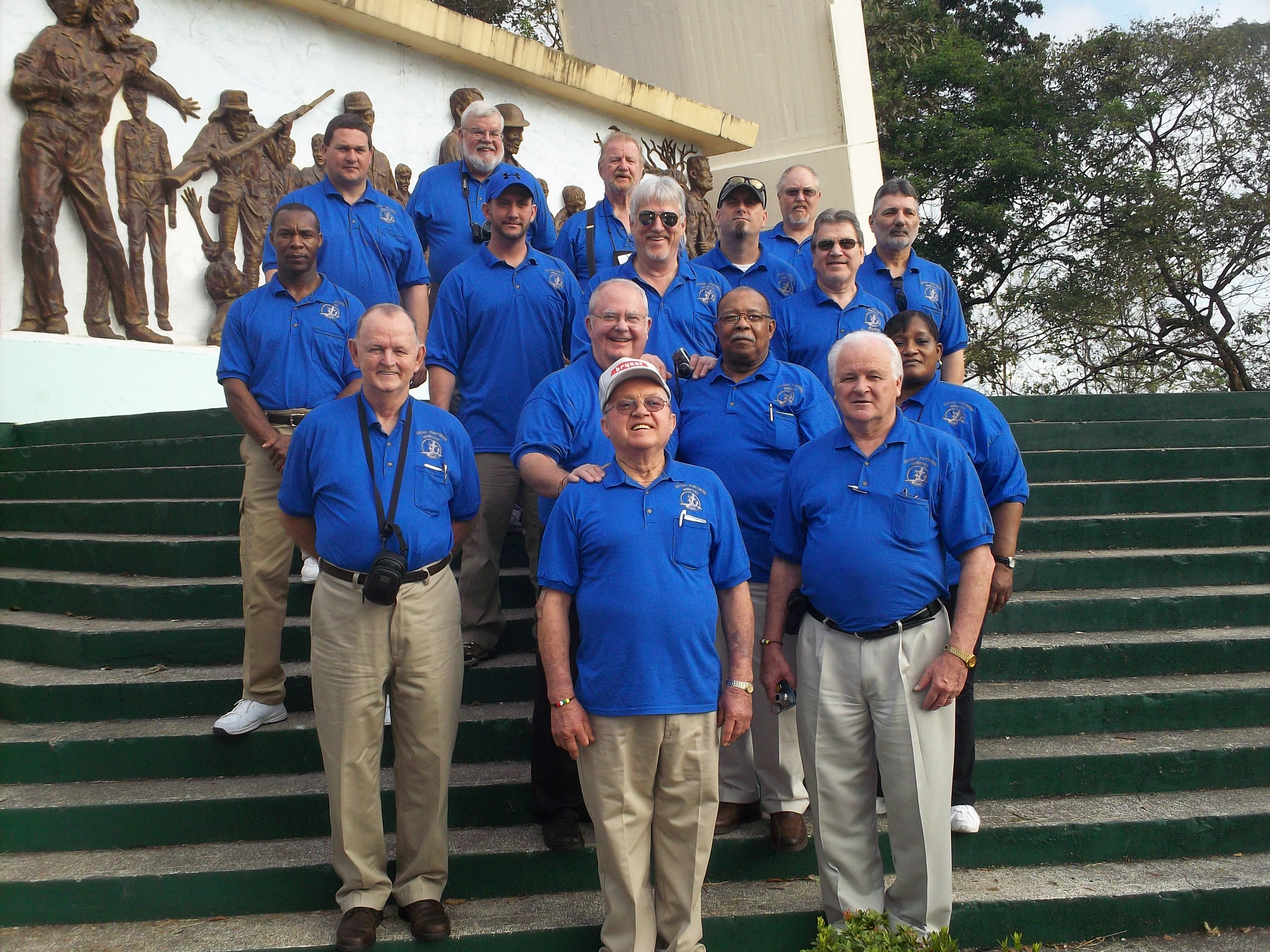 BOTTOM ROW: Loyd Garner, Bogota Baptist in Bogota: Dr. Charles Pratt, FBC Somerville:
2ND ROW: Rev. Jimmy Breedlove, Engelwood in Jackson: Rev. Randy Crews from Springhill Baptist, Dyersburg; Rev. Willie Pounds, St Pauls Baptist, Kenton; Dorothy Copeland, Forerunner Baptist in Ripley;
3rd ROW: Rev. Danny Scott, Hope of Glory in Brownsville; Daniel Hodges, FBC of Millington, Rev. Jerry Yaskiewicz from Pleasant Garden, N.C.; Rev. Jason Reynolds, Three Rivers Baptist in Dyersburg; Rev. Mike Hopper from Zion Baptist in Brownsville; Rev. Loren Stephens, Southside Baptist in Dyersburg; Donald Williams, Beech Grove Baptist near Halls;
BACK ROW: Rev. Randy Boals, Hopewell Baptist in Lavinia; Dr. John Hayes, Shaw's Chapel in Brownsville and D C Melton, Lakeview Baptist in Selmer.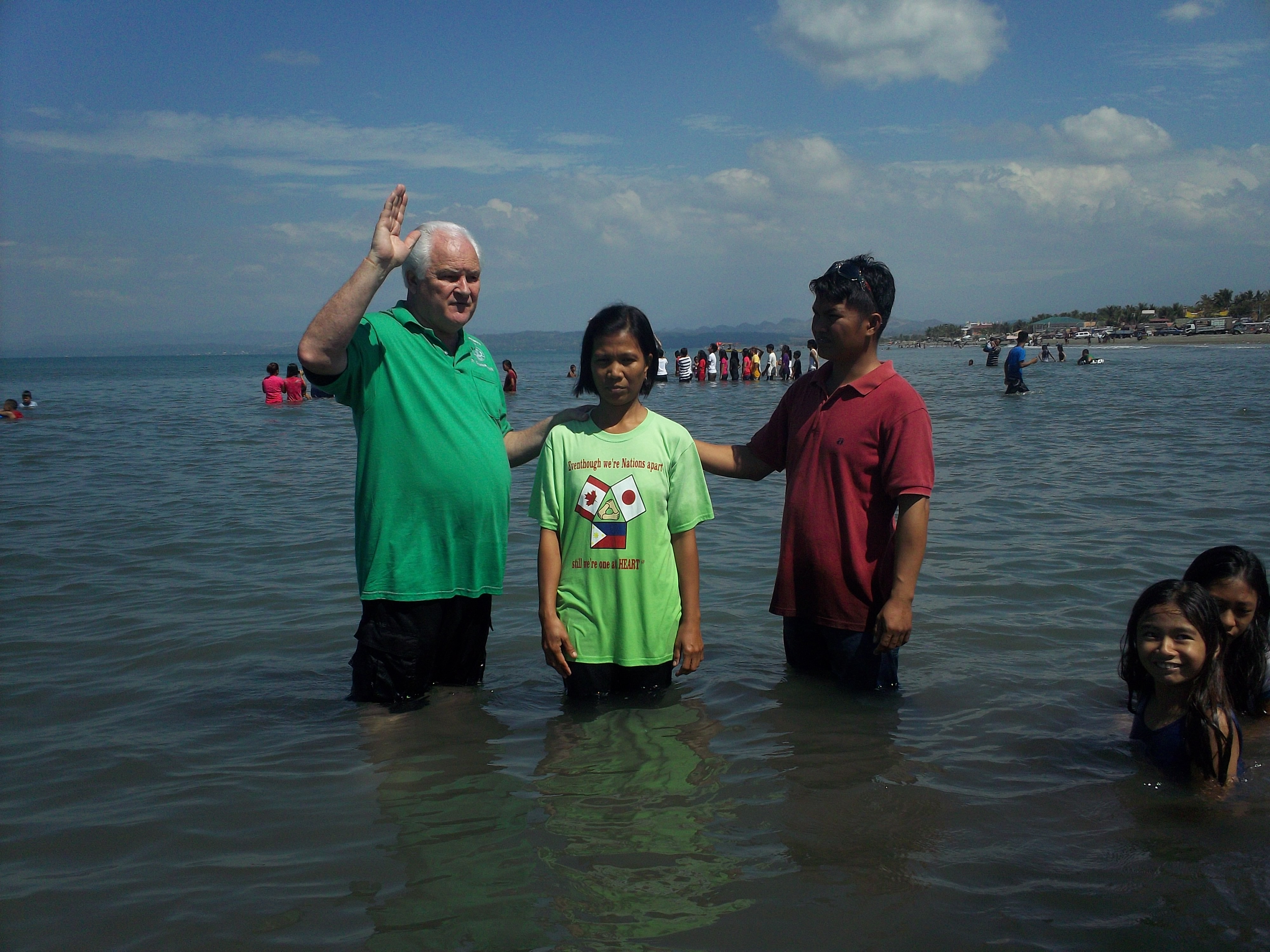 Dr. Charles Pratt assisting a Filipino pastor, Junie Merecado to baptize a candidate in the South China Sea during the Mass Baptism Service.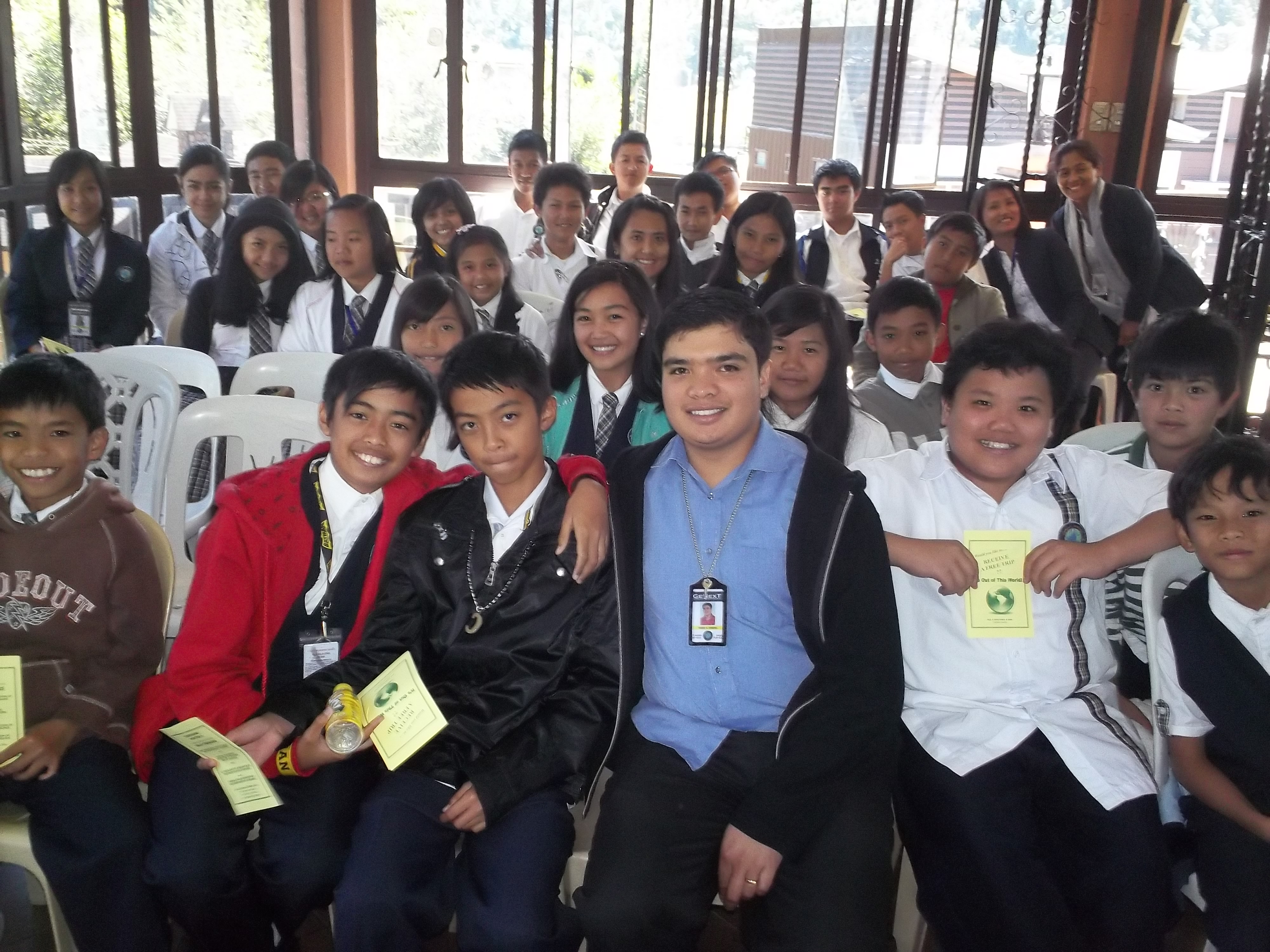 2013 VOLUNTEERS WITNESS A LIFE CHANGING EXPERIENCE
FOR OVER 18,000 COME TO JESUS
TOP: A group of high school students assembled to hear the Gospel in Manpandan from one of the volunteers.
ABOVE: A class of high school students in Baguio City, where a volunteer shared the Gospel and most of the class made professions of faith.
A team of 16 volunteers from Tennessee witnessed an incredible work of the Holy Spirit in the Republic of the Philippines in February. The group experienced the Hand of the Lord working in so many places as the Filipino people were accepting Jesus Christ as their Savior and Lord. Team members had been planning and praying for such results for several months before departing from the U.S. Eleven preachers and five laymen joined together and served with four Baptist Associations of churches on Luzon Island. Volunteers recorded 18,097 professions of faith and over 800 other Filipinos made other type of decisions for Jesus.
The Philippines is composed of 7,100 islands that compose a land mass of the size of the state of Arizona, if the land were all merged together. There are over 96 million people that inhabit these islands. Unemployment runs very high in this 3rd World Country. Many of the people farm on very small farms with water buffaloes called caraboo that pull plows through the rice, sugar cane, tobacco field and other vegetable crops. The other big trade in the Philippines is the fishing business, where many work every day to sell fresh fish and shrimp at the local markets that are found in every town.
The Filipino people are very open to the Gospel and respond when they hear to message of hope and salvation through Jesus Christ. During many of the services, there will be dozens and sometimes hundreds of decisons made for Jesus. The volunteers commonly speak in 3 or 4 schools during the daytime where thousands of students may attend one high school. The Gospel message is shared and the invitation is presented for them to receive Jesus and many times more than half of students will make a decision. During the night services that are conducted outdoors, generally with a Gospel film showing, hundreds will often make decisions. After or during the film, the American volunteer missionary will share a message and invite folks to respond by being saved. It is always and exciting time to witness all the people coming to Jesus.
The American volunteers raised funds to purchase Bibles and New Testaments once the team arrived in the Philippines to give away to those that make public decisions for Christ. The team raised enough funds to purchase over 15,000 Bibles that they gave away to the new Believers. It is always a joy to see the response of the people to the gift of a Bible, since most of them are unable to buy one of their own. This is a tremendous blessing to the volunteer missionaries, as well as, to the Flipinos that receive the Bibles. Americans carried about 35,000 Gospel tracts that they also gave away as they shared with people in the villiages and elsewhere.